Medium-term Management Plan
Medium-term Management Plan
Introduction
The Narasaki Sangyo Group established the three-year medium-term management plan "Dash Forward 2023," for which fiscal 2023 is the final year of the plan.
Amid dramatic changes to the business environment, we will reach the next stage of quality as a company by steadily implementing basic strategies stated in our medium-term management plan under the theme of "develop the sensitivity of all employees and advance reforms, and continue to grow as a company by establishing new fields/new businesses."
Furthermore, we will continue to place complete compliance and the perfection of our corporate governance as our most important tasks and we are building up our company group to be one that is trusted by all of our stakeholders and society.

Achievements under previous medium-term management plan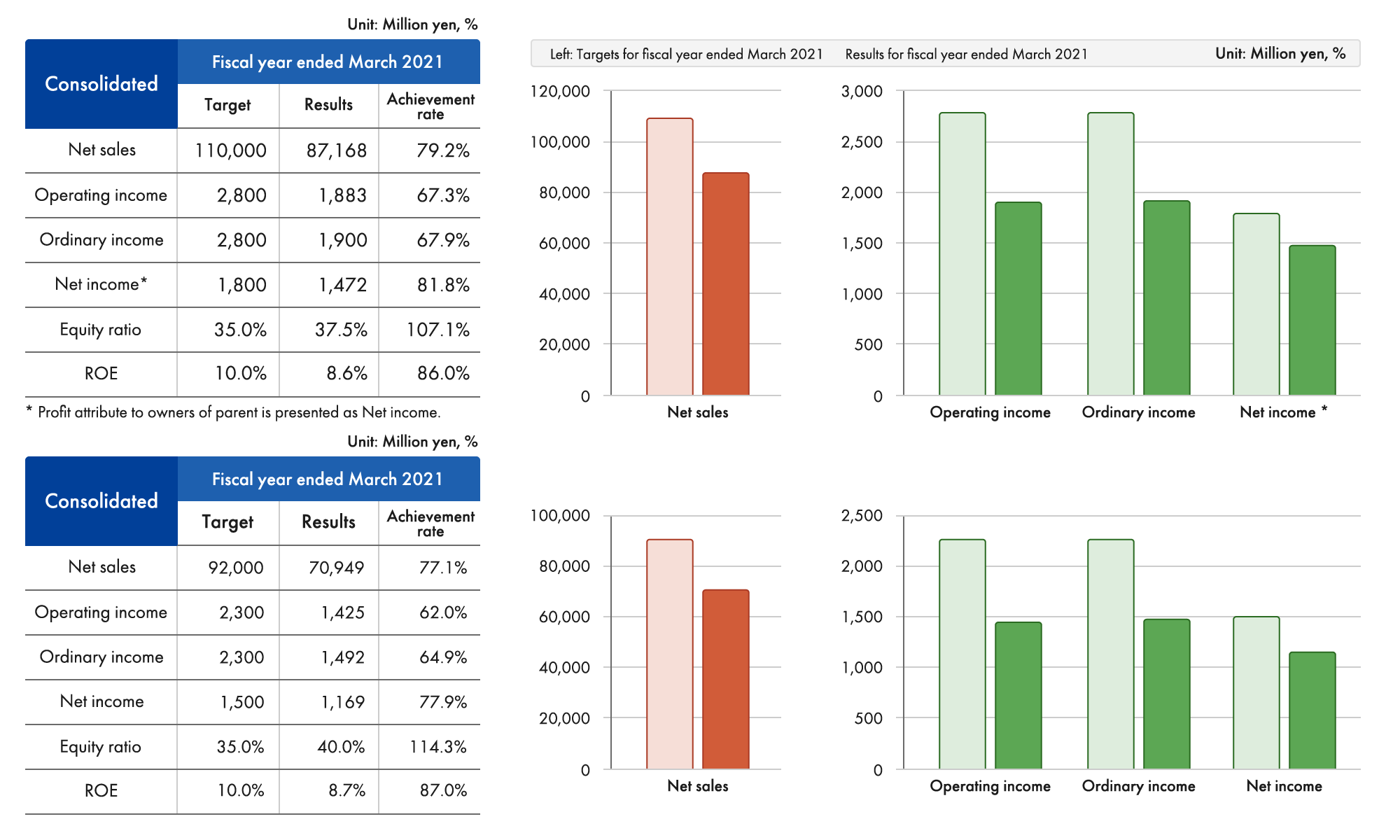 Overview of medium-term management plan
Basic policy
◇ Promotion of growth strategy  ◇ Strengthening competitiveness through business collaboration  ◇ Strengthening management foundation
To strengthen cooperation between business departments and exercise the Group's comprehensive strength.
To strengthen core businesses and create new businesses/new fields.
To respond to COVID-19 and adapt to a rapidly changing business environment.
To strengthen financial foundation and thoroughly manage cash flow.
To secure and train personnel, reform HR system and reform working style.
To completely observe compliance, enhance governance and strengthen ESG initiatives.
Diagram of the medium-term management plan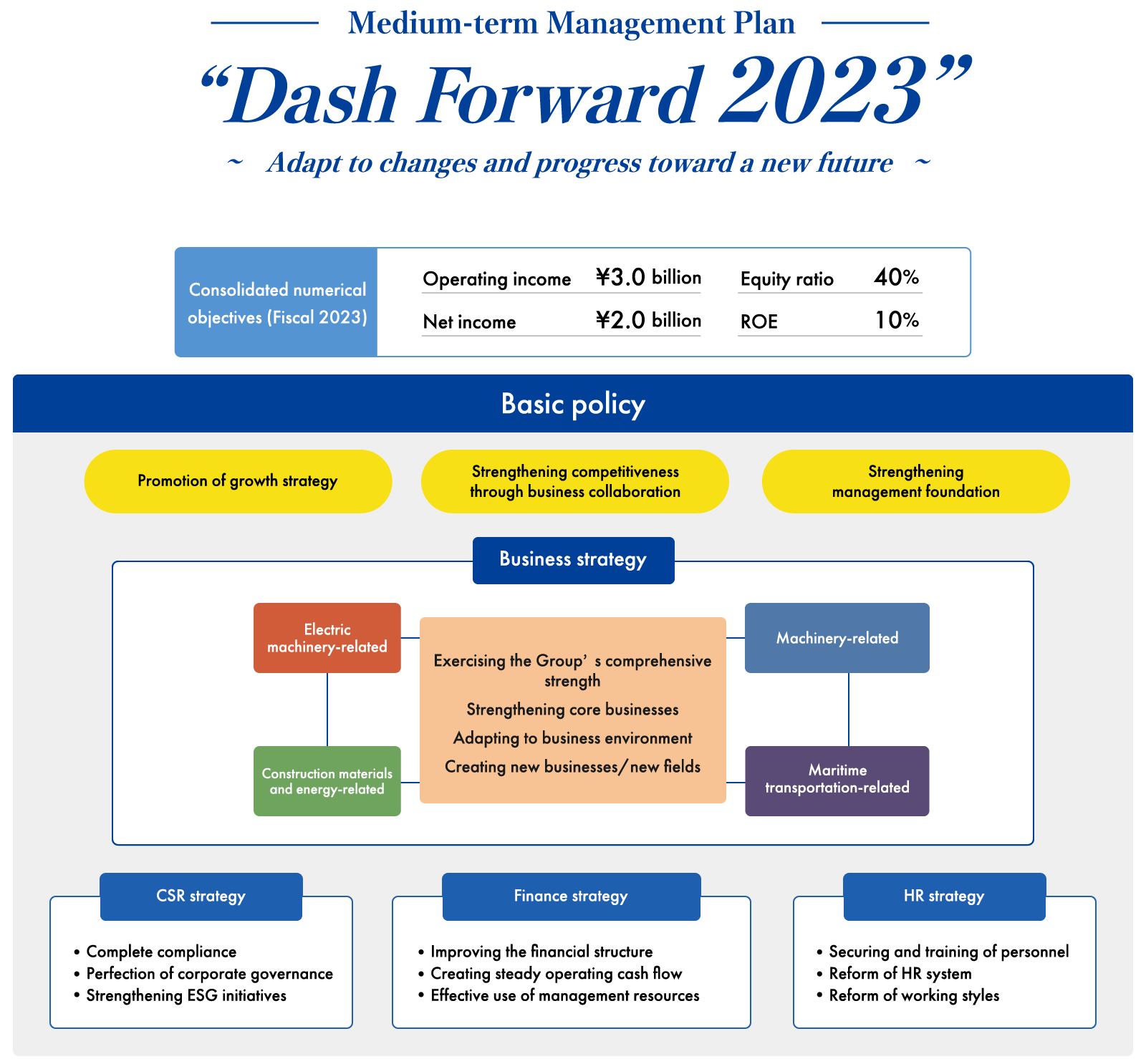 Numerical objectives

Business strategy by segment
Electric machinery-related business
Expand the smart solution business
Secure steady business development through strengthening ties with manufactures, and secure a firm position through relationships with them
Strengthen and expand the air cooling business, and total proposal for ZEB
Create new next-generation businesses
Strengthen digital marketing
Strengthen and enhance domestic regional strategies, and strengthen overseas business foundation
Machinery-related business
Strengthen and expand food-related business sector
Strengthen collaboration with partner companies
Strengthen regional strategies
Strengthen initiatives for environmental business
Strengthen the maintenance service business
Enhance construction system
Construction materials and energy-related business
Strengthen Tokyo metropolitan area redevelopment, national resilience and response to disaster prevention and disaster risk reduction
Strengthen collaboration with partner companies
Enhance environmentally conscious building products
Strengthen the sales foundation in the energy business
Strengthen initiatives for the lubricating oil and power retailing business and respond to decarbonization
Business operations of construction machinery field, which is primarily engaged in the road, pumping and snow-clearing businesses, and collaboration with manufacturers
Maritime transportation-related business
Improve productivity by focusing resources to improve specific businesses, and increasing efficiency
Promote differentiation through the provision of high-quality services centered around the port business
Create new businesses that utilize strengths
Expand operations through acquisition of new cargoes
Revise rates appropriately and reduce costs
Boost initiatives in the safety, health and environment fields
CSR strategy, financial strategy and HR strategy
[CSR strategy]
Complete compliance
Perfection of corporate governance
Strengthening ESG initiatives
[Financial strategy]
Improvement of the financial structure
Creation of steady operating cash flow
Effective use of management resources
[HR strategy]
Securing and training of personnel
Reform of HR system
Reform of working styles